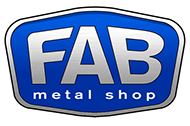 Phone: 562-423-1836 | Fax: 562-428-8114

Fab Metal Shop is an innovation-driven metal fabrication shop. We are passionate about solving your design challenges and turning your concepts into reality. We specialize in standard and custom metal fabrication services, ranging from welding, drilling, lathing and cutting to stamping, bending and shaping.
1. To continue to be an integral partnership of the metal fabricating industry.
2. To build intelligent design and engineering into our products.
3. To provide the best value to our clients.
4. To continue to be a well-known reliable supplier of quality products with on-time delivery.
5. To encourage personal and professional growth of our customers.